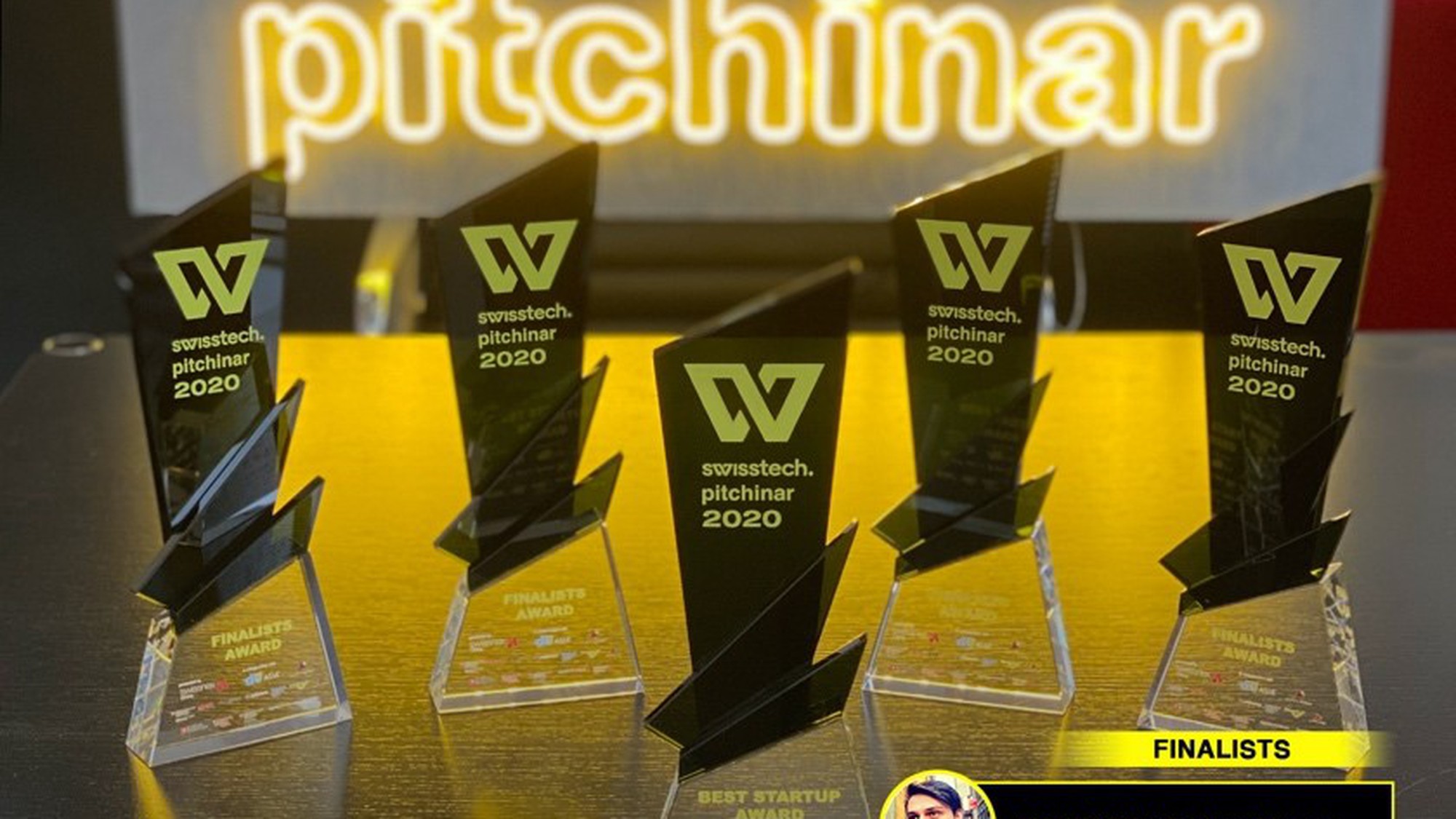 20 Swiss startups zoom onto the world stage at SwissTech Pitchinar 2020
On June 10, continuing the tradition of Switzerland's participation at the Consumer Electronics Show CES ASIA, 20 tech-driven Swiss startups took the world stage at the SwissTech Pitchinar: a dynamic pitching competition in the form of a webinar. The startups presented pioneering solutions in their respective fields of Advanced Instruments, Artificial Intelligence, Augmented/Virtual Reality, Biotech, Blockchain, Cybersecurity, Energy, Fintech, HealthTech, IoT, Robotics, Software and VehicleTech.
This first-of-its-kind virtual event received overwhelming interest, with more than 950 attendees, including university and media representatives, blue-chip companies and investors, seeking opportunities for partnerships and cooperation opportunities. Among the attendees were also the Swiss Ambassador to China Bernardino Regazzoni, Ambassador Nicolas Bideau of Presence Switzerland and Gary Shapiro of CES. Many of the startups received quality follow-up requests immediately after the event and, subsequently, eight startups decided to engage more closely with China by enrolling into further programs such as the Innosuisse Market Entry Camp, Venture Leaders China and the China-Switzerland Online Innovation & Entrepreneurship Pitchinar, thereby deepening their discussion on collaborations and partnerships.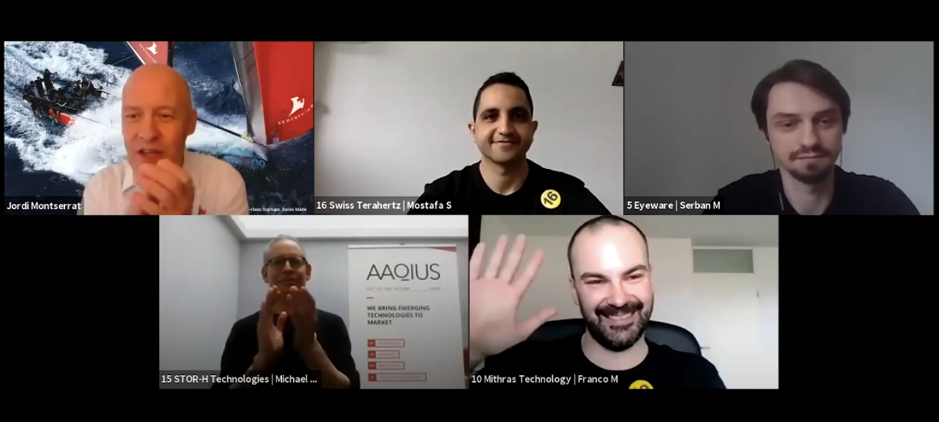 Mithras Technology, a startup that developed wearable technology turning human body heat into usable electricity, emerged as the champion among the 20 competing startups. Eyeware, STOR-H Technologies, and Swiss Terahertz were also chosen by the jury as finalists. The highlight of the event was the awards ceremony, virtually hosted by Swiss Ambassador to China Bernardino Regazzoni. The outstanding performance of all participating startups demonstrate the strength of the Swiss innovation ecosystem and the excellence of the world-class Swiss universities.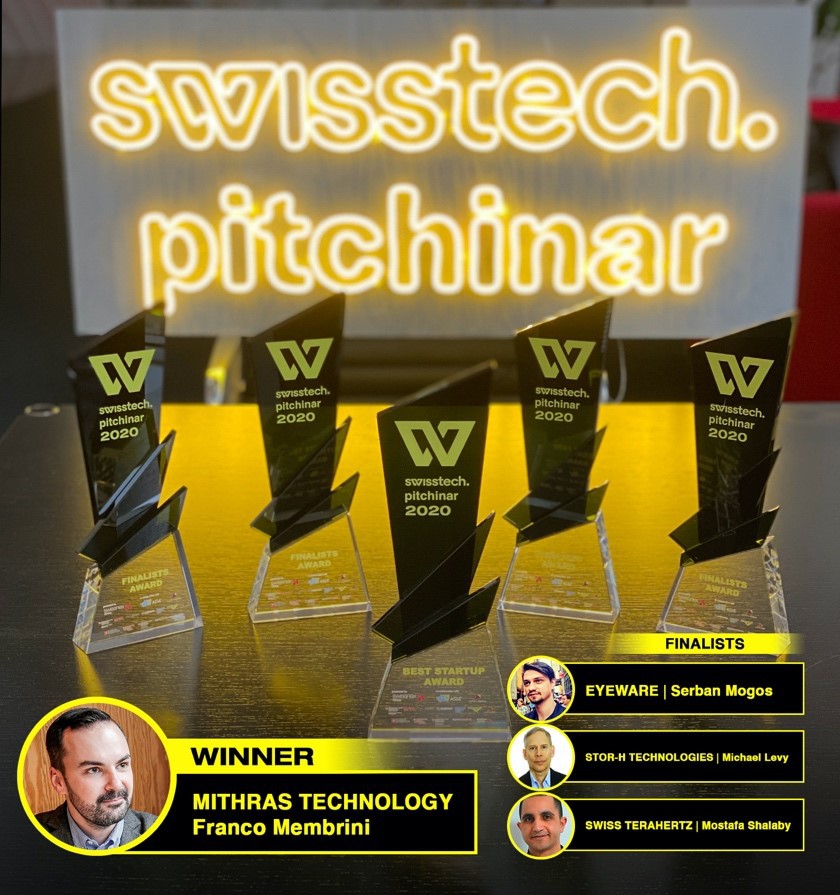 "This was completely unexpected. We feel very proud and honored to have won the first SwissTech Pitchinar 2020! We already received lots of positive feedback from people reaching out to us, which could result in very interesting leads and this highlights the inestimable worth of such events...", said Franco Membrini, Founder & CEO of Mithras Technology, "We would like to thank the team of swissnex China for an outstanding organisation and wish all the presented startups best of success!"
"Today, we pioneered a powerful virtual platform for Swiss startups to establish game-changing partnerships with investors, mentors, experts, potential business partners and highly-engaged audiences on a global scale: an unprecedented way to add value and build bridges", said Dr. Felix Moesner, Science Consul and CEO of swissnex China. "We saw overwhelming interest in our DeepTech startups and wish them every success with their many follow-ups."
The feedback from audience is greatly positive, a lot of follow-ups from investors and companies reached pitcher startups immediately after the event. Nine startups will join the online pitching organized by World AI Conference, two startups applied for Innosuisse China Camp and many are in discussion with potential partners in China to seek collaboration chances in China.
The pitchinar was covered widely by media from over 15 countries including China, Switzerland, India, Singapore and the US. In pioneering the SwissTech Pitchinar world premiere, Swissnex in China created a new powerful virtual platform for startups to build connections and strengthen their networks despite travel restrictions due to the global pandemic. Following the success of this new format, the Embassy of Switzerland in Japan also held a SwissTech Pitchinar for CEATEC (Combined Exhibition of Advanced Technologies) in 2020. The pitchinar also helped pave the way for the launch of the Swisstech series in China in 2021, which will help bring the best of Switzerland to China's hottest technology expos in both on-site and digital formats.
In December 2020, we welcomed back some of the startup entrepreneurs to pitch their innovative solutions for the Future of Work at our nex20 Working Tomorrow anniversary event, which convened leading representatives of the Swiss academic and business landscape and featured all-female panels with speakers from China, India, Singapore, South Africa, and Switzerland.