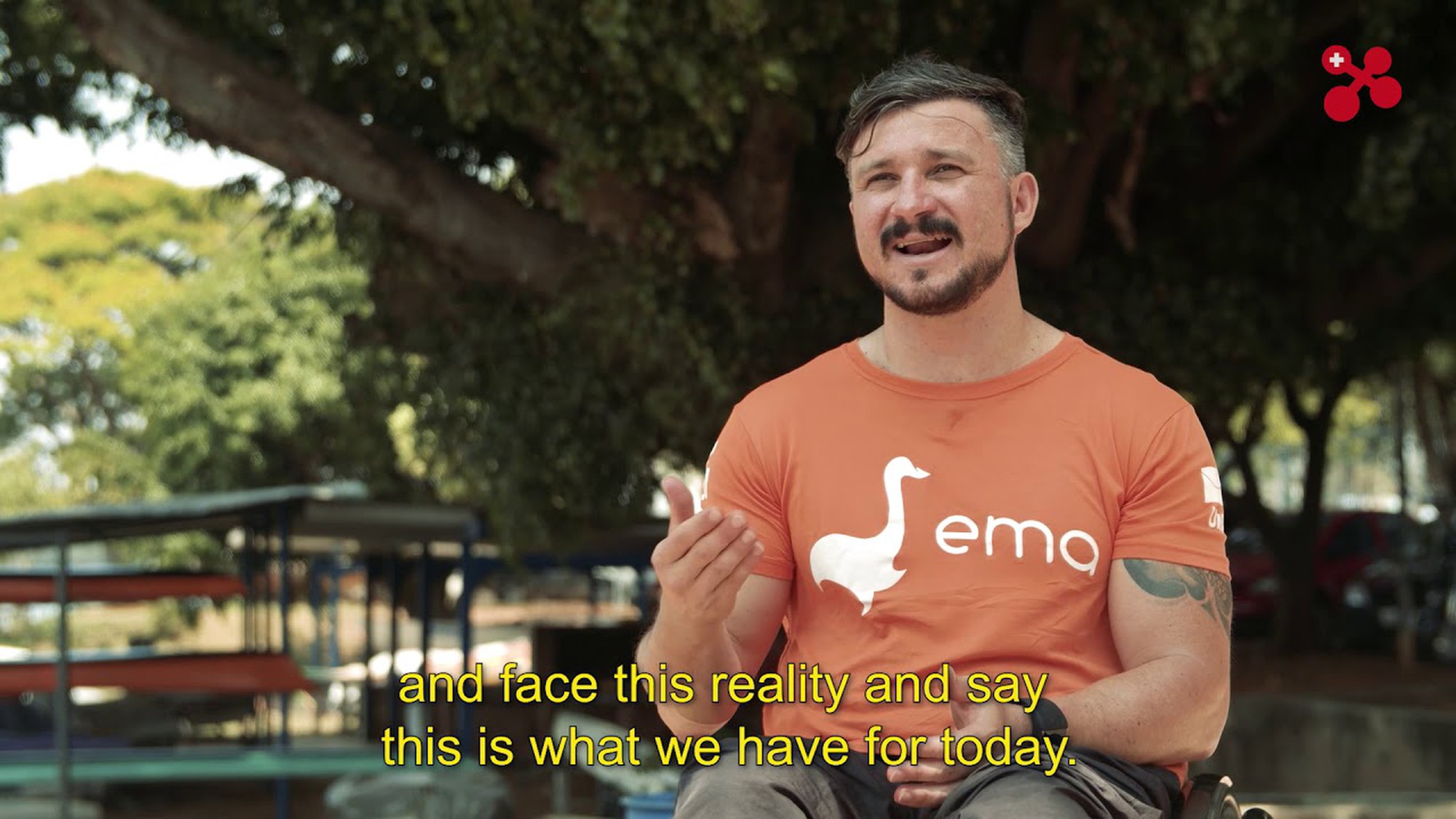 CYBATHLON 2020 in Brazil
"The sport showed that my chair doesn't have wheels, my chair has wings"
Estevão Lopes, Team EMA's pilot
The CYBATHLON is an international competition created by ETH Zürich in which people with physical disabilities compete against each other to perform everyday tasks using state-of-the-art technology. This championship should have taken place in Switzerland, but due to the Covid-19 pandemic, the 2020's edition required an innovative approach and a new format: each team competed in its home country and the event was broadcasted live. Sixty teams from forty countries participated in the competition. Brazil was one of these countries, and the only competitor in Latin America. Swissnex in Brazil played an important role as a facilitator in enabling the Brasília-based EMA team to participate in the competition.
Estevão Lopes is EMA's team pilot in the Functional Electrical Stimulation Bike Race. Paraplegic since 2012 following a medullar injury after being caught in a crossfire when leaving a party, he had to readapt his life and daily routines after the accident. That is where science and technology come in. Following a partnership with the University of Brasilia (UnB) and the EMA team, Lopes can bike again. He is a high-performance athlete in various disciplines and competed in the CYBATHLON 2020 for the second time, arriving in the sixth position. Lopes is also an advocate for the inclusion of people with disabilities in sports and was recently nominated Vice-President of the Athletes' Commission of the Brazilian Canoeing.
Swissnex in Brazil supported ETH Zürich's organization staff and the Brazilian team, by ensuring the competition's requirements were met and the live transmission worked well. In collaboration with the Swiss Embassy in Brasilia, Swissnex in Brazil coordinated the shipment of sensitive equipment from Switzerland on time. Furthermore, Swissnex in Brazil supported the CYBATHLON in the local selection of referees and volunteers, and, thanks to its local contacts, helped to communicate the event to the Brazilian media and the general public. Twenty-three media outlets picked up the news, including six national TV channels. Leonardo Machado, the Deputy CEO of Swissnex in Brazil, was also interviewed by "TV Brasil," a public broadcast TV with national coverage. That reinforces Swissnex's role of connecting Switzerland and the world in education, research and innovation in order to create a better future.