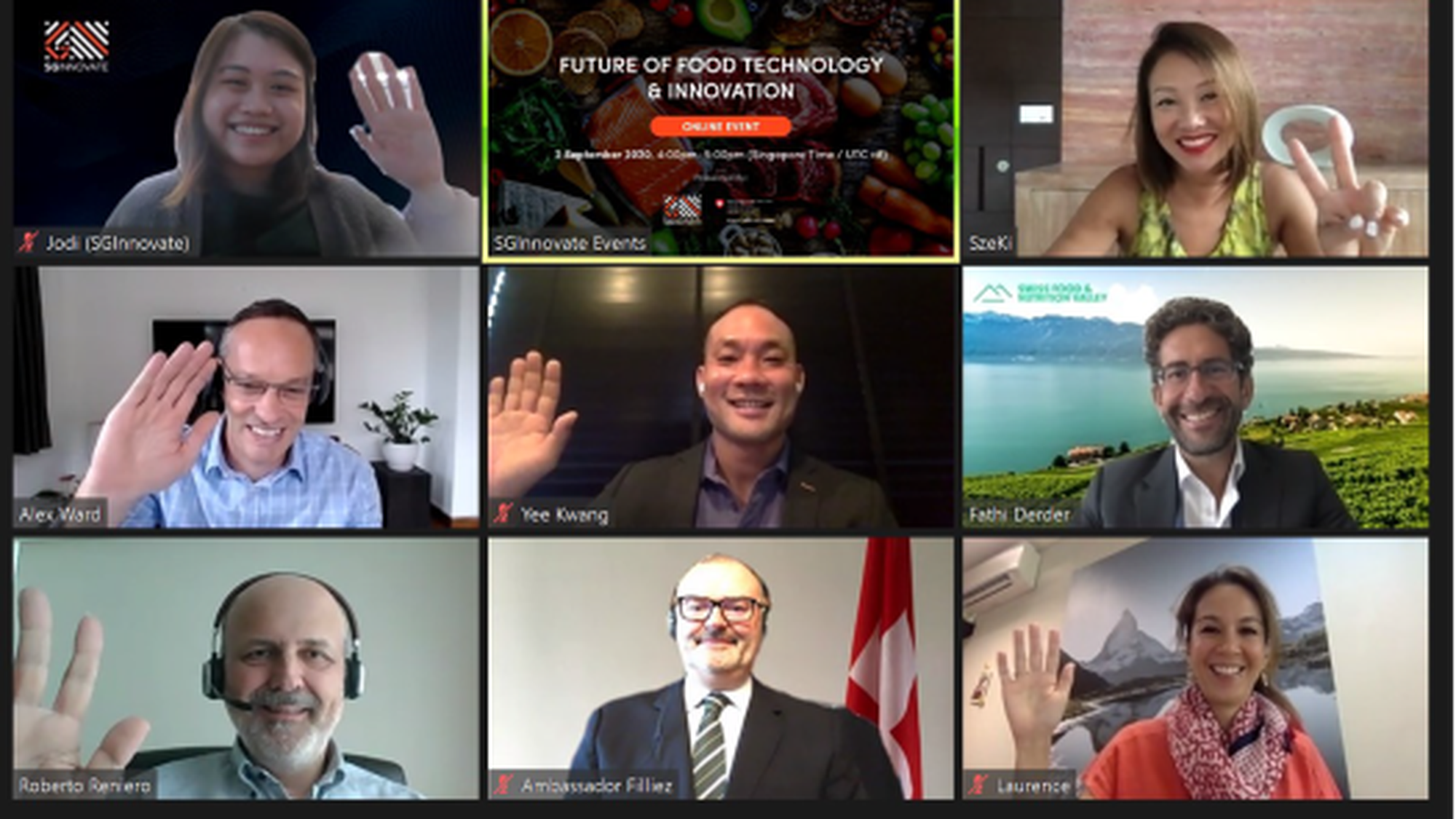 Future Food Technology and Innovation Webinar
The Embassy of Switzerland in Singapore, together with SGInnovate, a major platform in Singapore connecting Deep Tech startups with top talents across the ecosystem, co-organized an open discussion on the Future of Food Technology and Innovation via Zoom on 2nd of September 2020. The event was successful with 274 participants from 34 different countries across Europe, Asia and North America.
The event started with a welcome speech from Ambassador Filliez, followed by a panel discussion moderated by Mr. Fathi Derder (Managing Director, Swiss Food & Nutrition Valley). We had a diverse set of panelists from industry leaders to research agencies: Dr. Roberto Reniero (Managing Director, Nestlé R&D Centre in Singapore), Mr. Alex Ward, (Head of Innovation APAC, Givaudan) and Dr. Seck Yee Kwang (Director of Food and Consumer Cluster, A*STAR, Singapore).
Food Tech is becoming increasingly popular in Singapore and this webinar shed light on one of the city-state's major goals to increase the local production to have the capacity to provide 30% of Singapore's production needs by 2030. Potential synergies and collaboration exist between Singapore and Switzerland. Both countries share a strong commitment in addressing major challenges related to food-related global issues. With its unmatched density of world leading companies, scientific institutions and start-ups in areas such as food, nutrition and life sciences, Switzerland has much to contribute.
The panelists shared their insights on how the ongoing research collaborations between universities, start-ups, and industry leaders from both countries will result in more sustainable ways to produce food to a growing population. Swiss companies already have a strong presence in Singapore. Nestlé's R&D Centre celebrated its 40 years of presence in Singapore and will soon open a new R&D accelerator in Singapore. Givaudan has a very strong sustainability agenda as well and will soon launch (in collaboration with Buehler and VZug) a new Innovation Center dedicated to plant-based food in Singapore. According to Dr. Seck Yee Kwang, Singapore's resilience is challenged in the face of the global climate crisis, and as a land-constrained nation that is highly reliant on food imports, it is imperative that Singapore embarks on food innovation research to meet the nutritional requirements of the Asian consumer. One of their main objectives is to develop new products such as cell-based proteins, plant-based meat and further new technologies. There was a common agreement between all the panelists on the importance of cross-fertilization of talent, science and industry to address challenges such as the production of alternative proteins, new urban agriculture technologies, recycling of plastic waste and finding a way to create a circular economy.
This webinar highlighted the importance of an ongoing global and multi-stakeholder collaboration to improve global food security and nutrition in a sustainable way.
You can view the recording of the session here.