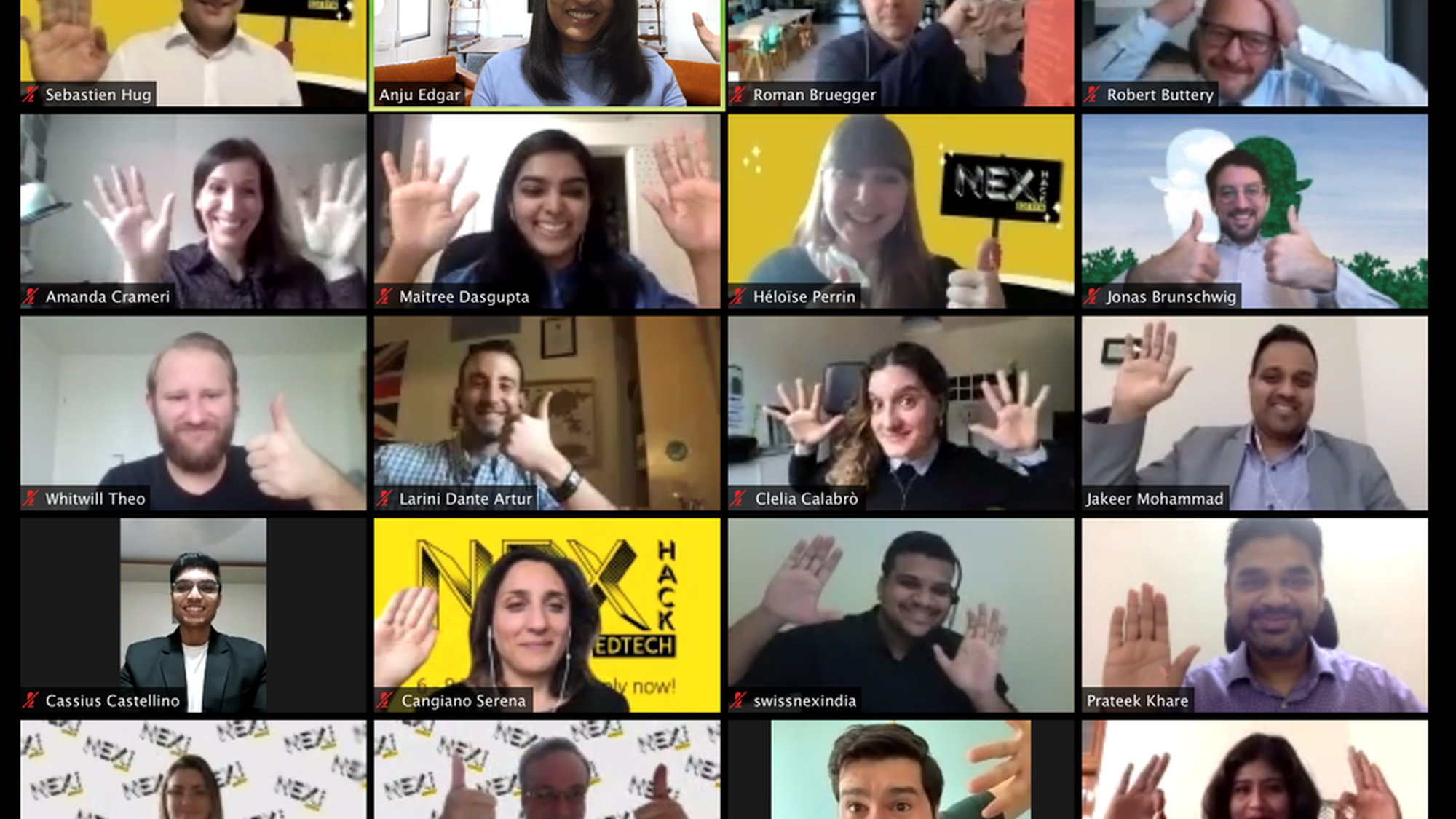 nexHack uncovers the nexBig ideas in Edtech
through a 48-hour hackathon for #learningtomorrow
2020 put a pause on some of our activities. A pause that we wisely used to reimagine the way we work, connect, collaborate and create. We hit play and launched our very first virtual hackathon – nexHack Edtech.
This 48-hour hackathon held in cooperation with Swissnex in Boston and Movetia brought together 130 hackers from more than 25 nationalities, to hack two big challenges in international education today.
The first challenge was to help international students to integrate with Swiss society, creating "an impactful intercultural exchange". The second was to create a digital solution "that considers how virtual cooperation and mobility contribute to creating high-quality learning experiences based on international interaction and exchange."
A variety of digital platforms were used creatively to connect team members across the globe to build prototypes, develop business plans, attend workshops as well as to network with peers, ensuring seamless adaptation of our core functions, digitally. Hackers were trained on design thinking, video creation, pitching, and of course, yoga to keep the ideas flowing. Twelve mentors from diverse tech, education, and entrepreneurship backgrounds coached the hackers throughout the weekend.
"#NexHack is my first virtual hackathon! Virtual coordination between more than 10 hour time differences was not easy, but the organisers did a fab job of putting together this event. I really value the connections I made during this hackathon and look forward to more fruitful collaborations with this new network", added Ankit B, from team Happy Llamas.
On the demo day we had 23 final projects pitched to the jury through pre-recorded 3-minute videos. After careful deliberation on ranking the ideas based on innovation, business value, prototype, scalability and diversity & inclusion, we announced the top five ideas.
The members of the winning team each received a CHF 1'000 voucher for a winter/summer school course from a Swiss university of their choice. In addition, Movetia provided the opportunity to apply for seed funding up to CHF 15,000 as well as coaching and support to match them with institutions to further develop their projects.
Here's a recap of nexHack:
The success of nexHack inspired us to be more invested in reinventing the future of learning. Our quest to create new avenues for international education and collaboration continued with the 'Virtual Exchange at Swiss Universities'. This interactive online roundtable attracted the key representatives from Swiss Universities to identify and implement the best practices to mobilise resources and create the right incentives for faculty. Based on this exchange, together with Movetia, we developed a report on Rethinking International Exchanges - the digital way forward to bring agility and innovation to the higher education landscape.
Another key milestone in redefining #learningtomorrow was our initiative in 'Creating Digital Learning Spaces' at Swiss Digital Days. The idea behind this initiative was to examine Covid-19's impact on creating new learning spaces. A conversation with three practitioners of online teaching/training revealed the parameters that were crucial in redefining learning spaces as well as the transformation that the core structure of education may undergo, making it a more productive, engaging and meaningful experience for all.