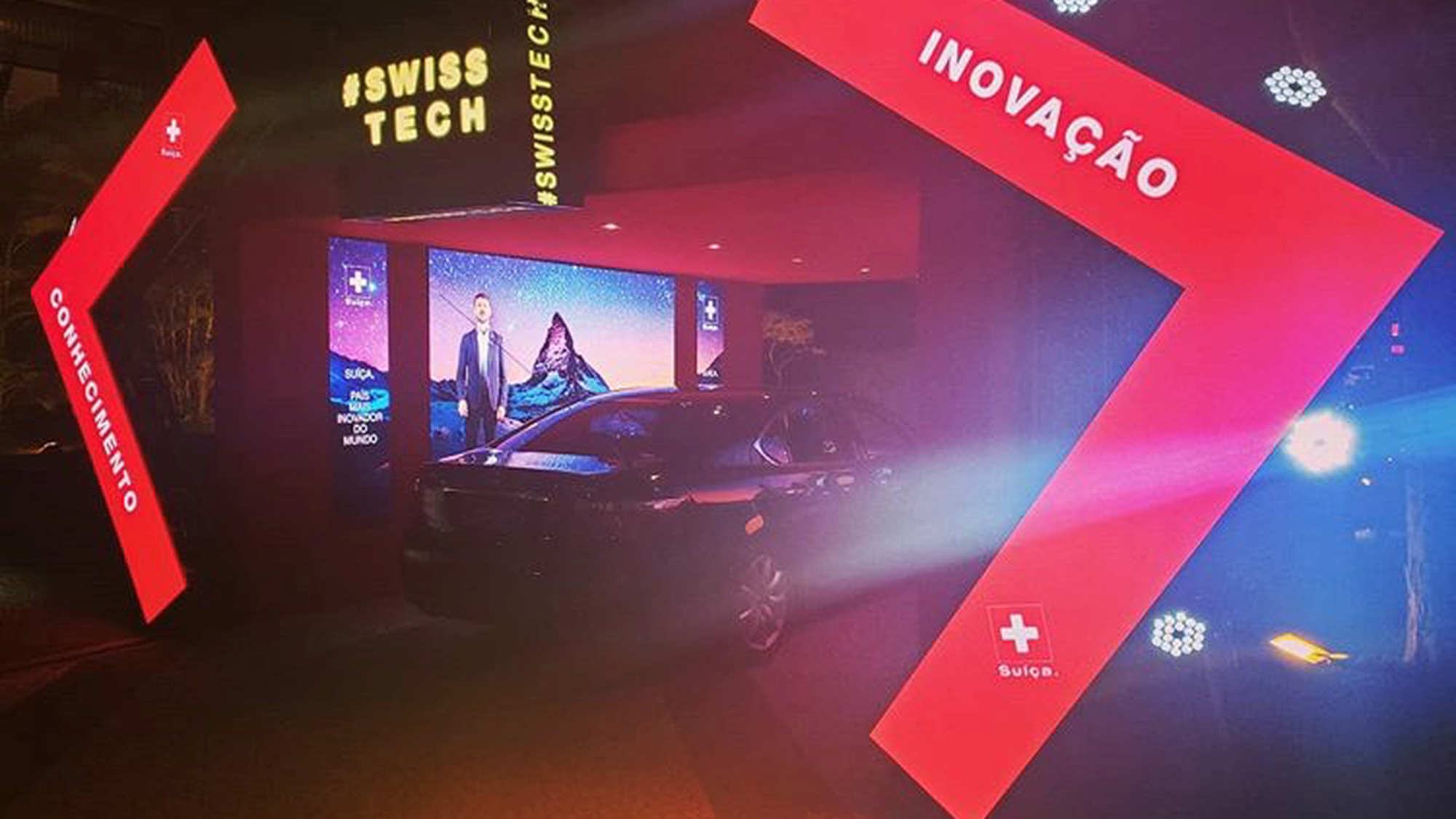 Swiss Innovation Experience
2020 was an exciting year for the Science Office in Brasilia, to display Switzerland's leadership role in the field of innovation, despite all challenges brought by the pandemic. On the Swiss National Day, the Swiss Embassy in Brasilia broke the status-quo of online events and organized a drive-thru tunnel experience, taking all COVID-19 safety requirements into account. This pioneer event was a unique and creative concept which highlighted the innovative character of Switzerland.
The Swiss Embassy was the only one among the 137 diplomatic missions in Brasilia to propose an in-person celebration of a National Day. Guests were curious about the event and did not know what to expect prior to arriving. However, from the front gate, they were immediately transported to a Switzerland where folklore meets technology.
The Swiss Innovation Experience, as it was called, was the main attraction of the celebration and through a cognitive experience, it aimed at promoting Switzerland's Education, Research & Innovation (ERI) sector in a one-shot science diplomacy project. The guests, from the safety of their cars, experienced Switzerland's ultra-innovative spirit through a 2-minute audio-visual message about Innovation in Switzerland and Swiss Brazilian cooperation in education, research and innovation. This custom-made message for the event was exhibited on high-tech screens, which simulated the feeling of driving through Switzerland and also featured a message from the Head of the Science Office at the Embassy.
The participants learned of some of the most important Swiss achievements in the field of innovation, from the creation of the Zipper and the World Wide Web to the work done in the space and mobility technology that assists people with disabilities. The idea of the drive-thru was to show that Switzerland has been a reference in innovation from the coffee we drink in the morning to the flights powered by sunlight.
The event attracted over 300 visitors in more than 130 cars. High-ranking officials of the Brazilian education, research and innovation sectors, members of academia, the international Diplomatic Corps and the Swiss colony were among the guests. The feedback from the press and the public was overwhelmingly positive with even personal congratulatory messages.
From this event, we learned that Brazilians are interested in what Switzerland can offer in the areas of innovation, science, and technology. For many of them, when thinking of Switzerland, they are limited to idealistic sceneries and the rich gastronomy. We work to achieve that in the near future when people think of Switzerland, innovation will be one additional key aspect that comes to mind.