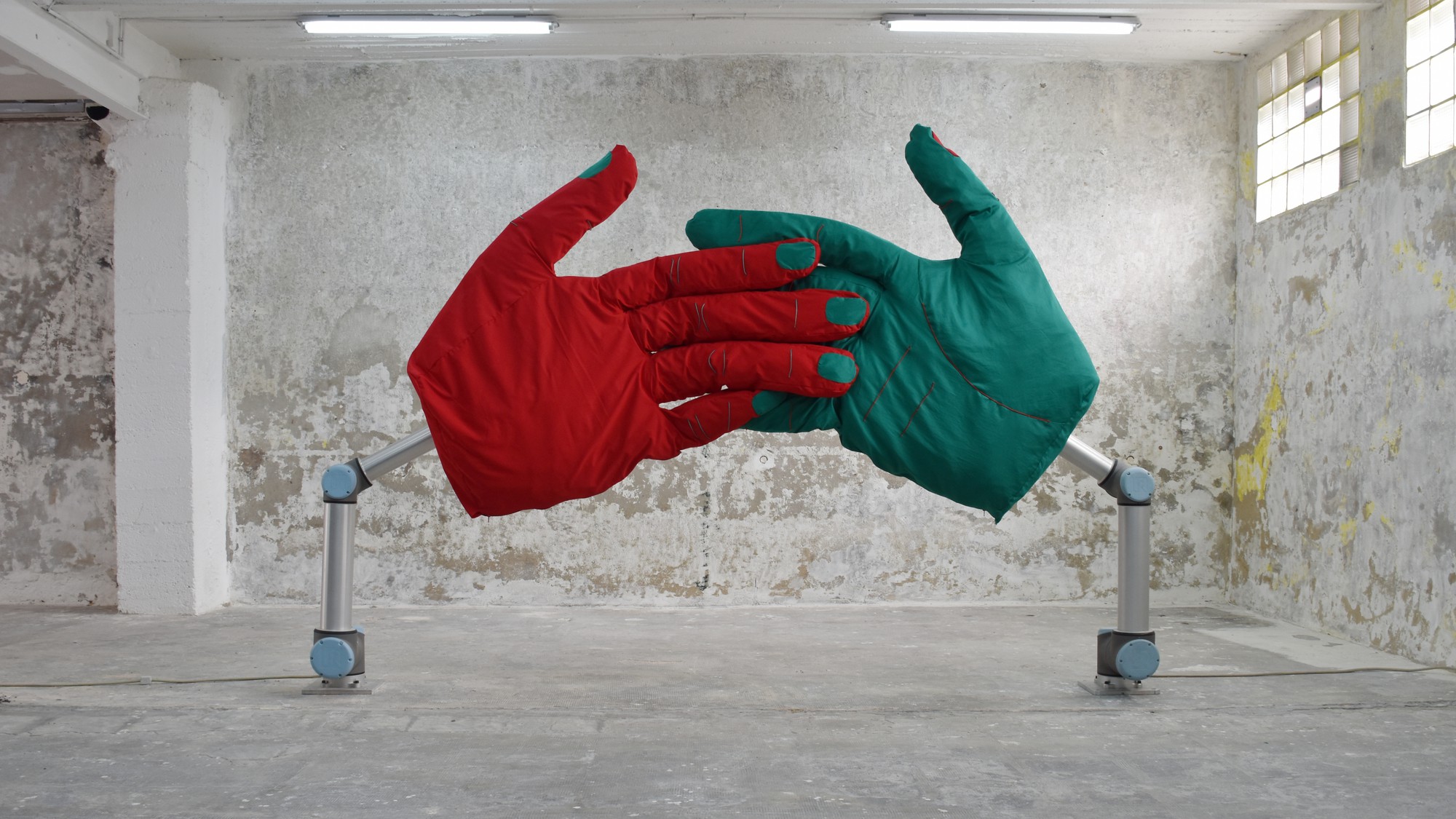 Transcending Borders, One "Handshake" at a Time
How two Swiss artists used robotics to make a physical handshake possible at the height of the COVID-19 pandemic.
The concept is simple, yet powerful: in a time of social distancing, where physical interaction is limited, two people "shake hands" by each controlling, from their web browser, a massive robotic arm installed in an industrial warehouse.
Handshake: An Interactive Robotic Installation came out of a conversation between Swiss design duo AATB and Swissnex in Boston and New York around the need to creatively respond to the global COVID-19 outbreak. Over the course of one month in the spring of 2020, the installation allowed more than three thousand people across the world to physically interact with one another with nothing more than a mouse and an internet connection.
The physicality of the installation is one reason it caught on so quickly, according to Thibault Brevet, one of the artists behind AATB. "It's not just a random chat where you meet random strangers, talk and then disappear," he said. "Here, there is an actual physical location where two people have an encounter, and these two hands are actually touching. You really know that somehow, you're meeting the person in real-life somewhere." Handshake represented, as Brevet put it, "the physical embodiment of a digital encounter."
From May 28 to June 30, 2020, Handshake was accompanied by a program of three events and a podcast episode organized in collaboration with Swissnex in San Francisco, the Consulate General of Switzerland in New York, the Swiss Federal Office of Culture, and the Embassy of Switzerland in Japan.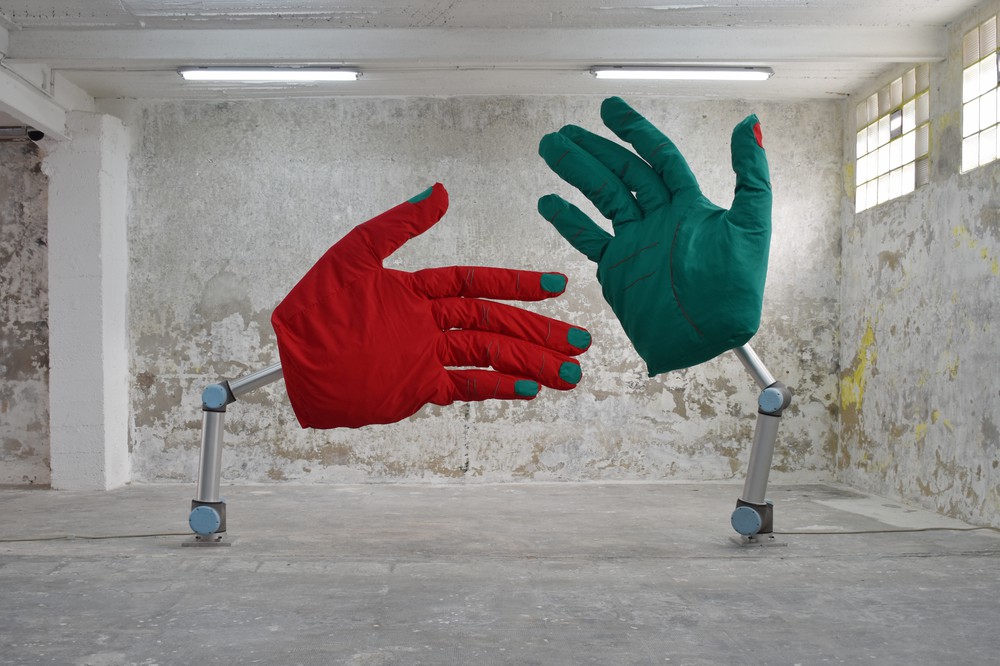 The series brought AATB together with experts from institutions such as ETH Zurich, EPFL, NASA, the University of Tokyo, and the MIT Media Lab. Together, they explored how advances in technology and robotics can expand the possibilities of social interaction, as well as how art and design can influence the trajectory of such technologies.
"The studio is our way of establishing ourselves as a voice in the conversation on robotics," Brevet said. "Our budget is miniscule compared to that of tech companies, but somehow they listen to us. You don't need tens of millions of dollars to do interesting things with robotics. It's more about understanding how it works, and then proposing new models of how it should behave."
As a result of the program, AATB was subsequently featured at San Francisco Design Week; Handshake was re-installed and shown for a Japanese audience for three weeks in the fall of 2020. AATB was also featured in a Swiss Creative Talk with close to twelve thousand live viewers.
Since wrapping up Handshake, AATB has continued to grow, holding multiple exhibitions, online workshops, talks, and lectures via decorated institutions (EPFL, ETH Zurich, FHNK, Hyper Island, and more) in Switzerland, France, and Germany. Anner and Brevet have also launched Superposition, a new side business that is built upon their expertise in robotics and motion control.
So far, they've landed jobs with top-tier clients that include Swiss shoe company On Running, renowned Swiss-Argentinian designer Alfredo Häberli, and Helmhaus Zurich. They even shot a music video for Zurich-based Rapper "Lil Bruzy," by mounting their robotic arm on the roof of a car as they drove through Zurich.
Handshake: An Interactive Robotic Installation, was initiated by Swissnex in Boston and New York and AATB, in close collaboration with the Consulate General of Switzerland in New York, the Swiss Federal Office of Culture, and Swissnex in San Francisco. This project and its global reach were made possible by the generous support of Swissnex, Presence Switzerland, and Pro Helvetia.